| | | |
| --- | --- | --- |
| | Watch The U.N. Rag Burn! | |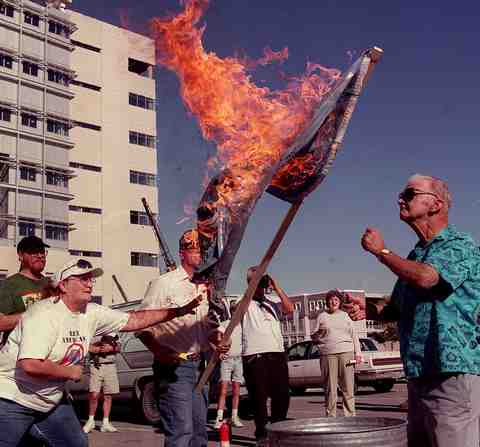 Patricia Saye (aka: Lady Liberty), far left, watches as a United Nations flag burns Sunday afternoon on Las Vegas Boulevard near the Foley Federal Building.
At right is Tom Hutton, 70, a Korean War veteran, who was given the honor of torching the "rag".

Patricia Saye organized the flag burning, in honor of Michael New (an American soldier, who refused to wear the U.N. uniform - A real American hero!) and to protest the founding anniversary of the United Nations, which was Oct. 24.
The flag was donated by Daniel New, Michael's father.